Wondering what our clients think?
Take a look at our reviews; 
We think our customers are pretty great too!

Here's a few of our reviews you can also find on HOUZZ.com | Please read them and discover for yourself why Eric The Closet Guy comes so highly recommended.
Eric is a very nice guy, quite professional, and a skilled tradesmen. Pricing very attractive vs large closet companies. Gave some good suggestions to spice up project. Left the house immaculate condition. HIGHLY recommend him. Kitchen pantry small, but much more functional. Kids bedroom functional and cool drawer pulls add some pizzaz. Closets in general aren't cheap, but very happy !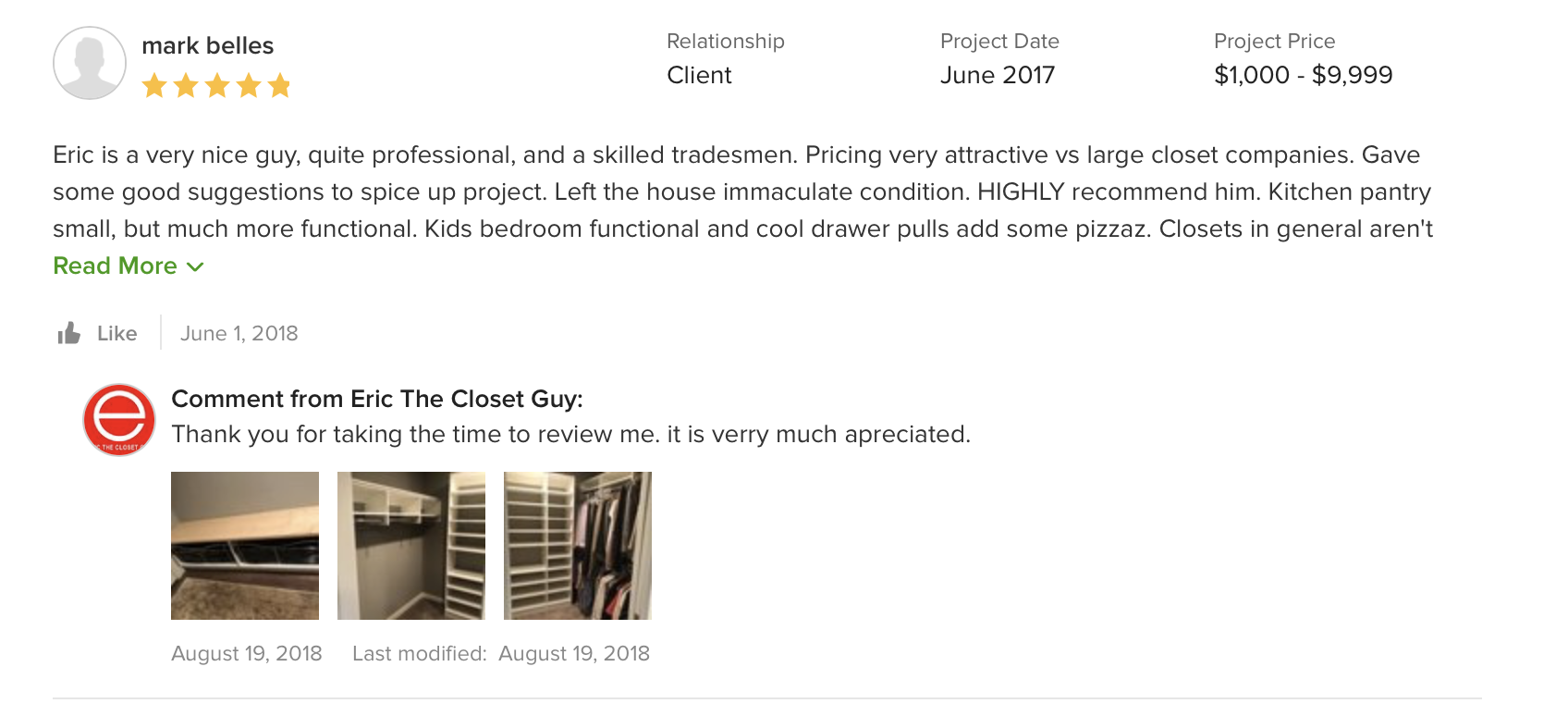 Eric built linen closets in two bathrooms, and reconfigured a master closet for me. I asked about doing the closets in bamboo, and Eric was all game for doing something new. He is really skilled and knows his stuff. Would recommend.

We had completed a major house remodel that included complete kitchen/main floor redesign plus a 1,500 sq. ft. addition, mostly consisting of a master bedroom suite. We spent a year keeping a very close eye on the contractor and various sub-contractors because we had experienced a wide variation in work quality. A closet system was not in the scope during the initial phase. We brought Eric in after the remodel was complete to install a custom closet system for a "his & hers" walk-in closet of approximately 150 sq. ft. I can't say enough great things about Eric. His pricing was very reasonable. His quality was the best. He had great design ideas and really was extremely knowledgeable about all closet systems and related features. Also, Eric was great about communication and adhering to the time frames to which we agreed. He was very professional and great to work with. The system he installed is one of the key features of our home. It's been two years, and it still looks great and functions wonderfully. We love it.

I found Eric The Closet Guy on Yelp after looking for a true local business owner that wasn't the typical 'big box' type company. I am so glad I found Eric – he took the time to really find out what I needed and worked with me to meet all my closet needs. We specifically designed my closets around what I needed including shelving, drawers, shoe racks and more. I couldn't be more pleased with my new closets. I now have more storage than I have stuff and that is a good problem to have. If your looking for a local business, no pressure sales tactics, and great service, Eric is your guy! I am just getting around to reviewing Eric. The work was done last summer.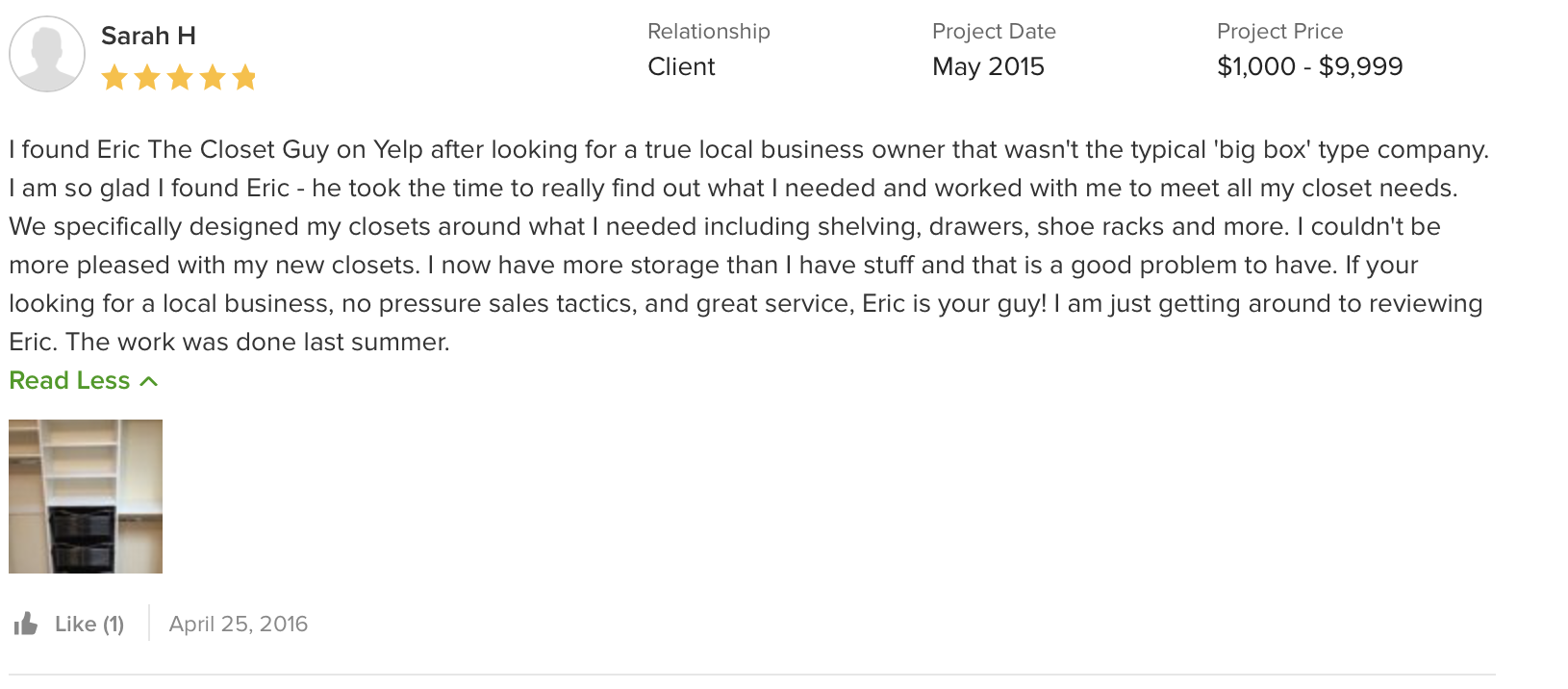 My wife and I found Eric here on Houzz.com and thought his work looked wonderful and invited him out to our home to see what he could do for us. He has many offering from inexpensive to the most custom cutting edge designs. After several iterations in design we finally settle on a plan we liked. We selected a textured wood grain material that was very much like what California closets had shown us. When Eric was done it looked fantastic. The custom made hard rock maple drawers had dovetailed construction and the finish on them was much nicer than on cabinets we looked at. I would be glade to recommend Eric to anyone. He likes his job and it shows.